La Vinya del Vuit (The Wine of the Eight) was founded in 2001 by a group of eight friends; Sara Perez , Rene Barbier IV, Ester Nin, Nuria Perez, Montse Mateos, Iban Foix, Julien and Philippe Thévenon Basté. Barbier and Sara Perez are the oenologists for La Vinya del Vuit. Sara Perez is considered by many to be the most important woman winemaker in Spain. She is also a wine consultant, the oenologist at Mas Martinet and Venus la Universal with her husband René Barbier IV. Barbier is the son of the legendary Priorat pioneer René Barbier (III) from Clos Mogador.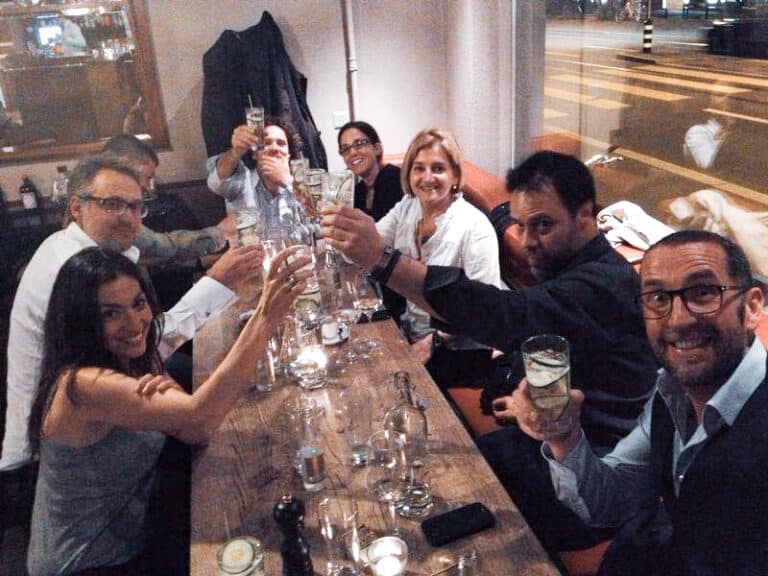 The aim of the project was to revive 4.5ha of old vineyards near the towns Vilella Baixa and Gratallops, located in the heart of Priorat. The Carignan vineyard is over 100 years old and the Grenache is over 70. Vines struggle to survive in Priorat with a harsh but beautiful landscape of nutrient-poor schistose soils, high altitudes, hot days and cold nights, and terraced vineyards that must be worked by hand producing very little fruit. This is what makes Priorat wines so unique and terroir specific.
The land is managed organically with the help of a mule and the wine is vinified at Clos Mogador Cellar. Production methods are artisanal, and the Eight produce a minute 1900 to 2000 bottles per vintage. The wine is a blend of 70% Carignane and 30% Grenache, hand harvested in the early dawn hours and rushed to the winery in small refrigerated trucks. After a partial crush, the wine is allowed to ferment naturally on its own yeasts in 500-Lt open-top casks. A second crush is then performed and the wine is left to ferment slowly for up to another month before being racked (gravity only) into 2nd and 3rd year 300-Lt French and Austrian oak barriques where it rests for 18 months before a final racking and bottling. After a further 2 years of bottle aging, the wines is released, and (of course) packaged 8 bottles to a case.
Since its creation, Vinya del Vuit takes a new look with every vintage. The labels range is diverse, creative and even controversial at times. The packaging is an attempt to depict current concerns by the eight; although the labels may seem contradictory they should keep a certain overall logic, each label revolving around the number "8." La Vinya del Vuit is a celebration of the art of wine-making and the power of the collaborative minds displayed through the label on the outside and the wines on the inside.